Sussex Backgammon

Sussex Backgammon
Welcome to the Sussex Backgammon League
UPDATED 29/09/2020 - Due to the Corona virus, Face to Face matches are discouraged. Please notify the Admin for guidance in advance of playing if this solution is required.
Backgammon Studio Heroes and Backgammon Galaxy are the preferred platforms for online play
Please let Admin know if any particular fixtures were played online when reporting scores as they are not eligible to count towards UKBGF rankings.
______________________
Please click the 'Contacts' link above if you are interested in playing live and local backgammon in Brighton.
We offer four competitive Divisions for which there are prizes (subject to entry fee). Levels: Novice to Advanced.
New, casual players are also very welcome - just drop in to learn, spectate or play informal matches for free :-)
For the competitive league, the current commitment in a division of 4 players is a total of six 11 point matches (or eight matches in a division of 5 playes) over a 3 month period.
Season 18 - starts Monday 12-Oct and ends at midnight 31-Dec 2020
It is strongly recommended to **speak with your opponents by telephone** and arrange to play your matches sooner, rather than later.
Link to telephone numbers are in the 'Announcement' section our private Facebook group https://www.facebook.com/groups/sussexbackgammon/permalink/1573747846081760/

N.B. These are the forecast season start and end dates
Season 18 12-Oct - 31-Dec 2020
Season 19 11-Jan - 29 Mar 2021
Season 20 12-Apr - 28 Jun 2021
All of the above start dates are Mondays and inclusive.

______________________
RULES OVERVIEW
______________________
For matchplay, the UKBGF Rules framework has been adopted by the Sussex Backgammon League.

N.B. These rules are subject to amendment by the Committee with respect to fairness and pragmatism on a case by case basis.
Link to UKBGF Rules- Edition 1.3 (UK): http://ukbgf.com/wp-content/up...
______________________

We have also adopted a similar framework to the London Player's League for Division structure and progression...
______________________

League Entry is by invitation only. League Director discretion on all invites and re-invites.
League Director can change the rules and format of the league competition without notice.
(This would only ever be done to adjust the competition for the greater benefit of fairness and no-one will be purposely disadvantaged by these changes)
It is both players' responsibility to organise matches. If both players can't work it out between them over a three month period, they both lose out.
No ifs, no buts, no sob stories. Forfeited matches are not awarded.
Players dropping out of the league will need to wait 12 months before being allowed re-entry unless a very good reason for dropping out is given.
Only fully completed matches count towards your total.
THE DEADLINE WILL NOT BE ALTERED
This is a FUN tournament – prize fund is secondary. Any player losing sight of this will not be invited back at the start of the following season.
Standard divisions are made up of four players each
It is £12 per season entry each (this includes a 17p per week administration fee)
For 4 player divisions each player should play 2 x 11 point matches against all other players in their division.
For 5 player divisions each player should play either 1 x 11 or 2 x 11 point matches against all other players in their division, dependant upon consensus at the start of the season
Default is one promotion spot in each 4 player division; one relegation spot in each 4 player division
**The person placed last in each Division is always relegated, unless there are exceptional circumstances**
Legal moves only.
Winning match scores are truncated to 11 points.
Three points for a win, one point for a loss. 0 points will be awarded to both for any unplayed matches
Only matches played and reported by season deadline count towards point's total.
Newcomers join the lowest division.
For Divisions with 4 players: £28 to each divisional winner, £12 to second spot.
For Divisions with 5 players: first prize is £28, second prize £15. third prize prize £12
The above is based on all players per Division having paid in to the Prize Fund. i.e. if any of the players in a Division do not pay the entry fee, then all contributors (that did pay in) will be refunded their £12.
We encourage all matches to be played using dice cups (and precision dice when available). Dice cups can be omitted unless one of the players objects (preference rules). Baffle boxes are permitted.
It is strongly recommended to **speak with your opponents by telephone** (numbers are at the top of our private Facebook page) and arrange to play your matches sooner, rather than later.
______________________

CLARIFICATION 11/11/2017 - End of season Tie breaks in order of importance..
a) Total Points
b) Score difference (a bit like end of season goal difference in football)
c) Score for (total in-match points won over the season)
d) Higher number of head to head fixtures won in the divisional matches played among the players in question
d) The aggregate match scores of the two divisional matches played between the players (i.e. The total points sum of their two matches against one another)
f) Higher current UKBGF rating.
______________________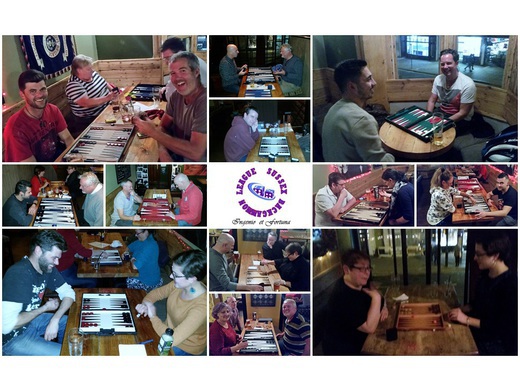 Follow the site to get the latest news and results straight to your email
Weather
BN3 1AF
Light rain shower

15 MPH SW
89% humidity
Tue

11°C
5°C
Wed

12°C
11°C
Thu

12°C
10°C
Fri

11°C
5°C